PCD
DC Motor Models
Premium CHOICE Series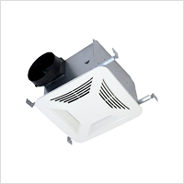 Model Features
Extremely quiet operation 0.3 to 1.2 Sones
Brushless DC motor for long life
Motor rated for 60,000 hours continuous on High/Low-speed delay timer
6" Duct connector with built-in backdraft damper
Robust steel housing
Attractive, sturdy grille
cETLus Listed
ENERGY STAR® qualified
HVI Certified
EcoWatt®




Model Overview
PCD fans feature the most efficient DC motors available to help improve indoor air quality and increase your home's durability by quickly exhausting contaminants and excess moisture that can cause health issues, mold growth, and structural damage. With built-in control boards, the PCD models allow you to CHOOSE your airflow. The DC fans are available with humidity sensing, motion sensing, and VOC sensing options built-in.
6-year warranty
Specifications
Toggle Switch Settings
The built-in switch and duct connector options allow you to set the PCD fan to the required airflow. Use the below chart to adjust your switch connections by changing the toggle switch to match the diagram.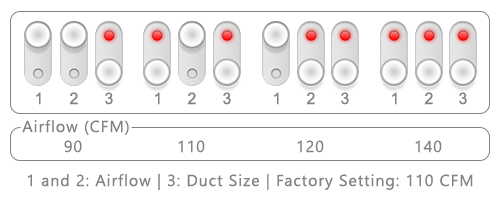 Technical Characteristics
All Variants
Duct Dia.
HVI Certified CFM 0.1" SP
HVI Certified CFM 0.25" SP
Sones @ 0.1" SP
Voltage / Frequency
Energy Efficiency (CFM/Watts)
Watts @ 0.1" SP
Current
Average Shipping Weight
PCD110X
6"
40
-
<0.3
120V / 60Hz
9.6
4.2
0.09A
11 lbs
90
51
0.5
12.2
8.1
0.16A
110
78
0.9
11.4
10.3
0.20A
120
91
1.2
10.8
12.2
0.22A
140
113
1.5
9.4
15.6
0.27A
Plug-&-Play Options
Plug-&-Play Grille Options
Metal Grille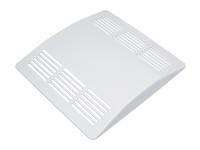 PCMG - Metal Grille
13 x 14" metal grille
Ideal for commercial applications
Lighted Grille Kits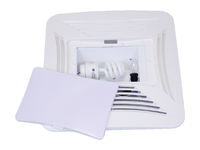 PCLK - CFL Lighted Grille Kit
13 watt GU24 bulb (2700K/900 lumens)
4 watt night light bulb
Simple plug-in receptacle in fan housing
Can be installed with new or pre-installed fan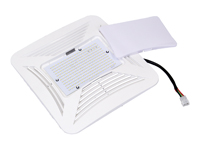 PCLEDK - LED Lighted Grille Kit
11 watt LED array (4100K/1100 lumens)
2 watt LED night light setting (200 lumens)
Simple plug-in receptacle in fan housing
Can be installed with new or pre-installed fan
Sensing Grille Kits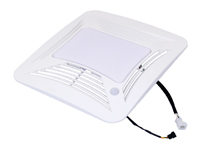 PCDLMG - Motion Sensing Lighted Grille Kit
Compatible with PCD110XM and PCD110XMH
13 Watt GU24 Bulb (2700K/900 Lumens)
4 Watt Night Light Bulb
Automatically turns on fan when motion is sensed
Adjustable Time Delay Shut-Off from 3 to 30 Minutes
Simple Plug-In Receptacle in Fan Housing
Can be installed with New or Pre-Installed Fan
Accessories
Note: Additional accessories are available for certain products. Contact your S&P Representative for more information about these accessories.
Radiation Dampers & Kits
| | | |
| --- | --- | --- |
| PCRD | Ceiling Radiation Damper | SubmittalIOM |
| PCLKRD | Ceiling Radiation Damper Kit with PCLK | Submittal |
| PCLEDKRD | Ceiling Radiation Damper Kit with PCLEDK | Submittal |
| PCMGKRD | Ceiling Radiation Damper Kit with PCD110M and PCD110MH | |
| PCD110MRD | Ceiling Radiation Damper for PCD110M and PCD110MH | Submittal |
Electrical Controls
General Accessories
| | | |
| --- | --- | --- |
| PER-W | Plastic Louvered Shutter | Submittal |
| GRA | Aluminum Exterior Fixed Grilles | Submittal |
| RC | Roof Cap | Submittal |
| ME | Round Adjustable Metal Elbow | Submittal |
| DC | Duct Connector | |
| WC | Worm Clamp | |
Replacement Parts
| | | |
| --- | --- | --- |
| PCDC6 | Replacement 6" Duct Connector | |
Applications
Residential Bathroom Exhaust
Commercial Bathroom Exhaust
Local Exhaust
Dwelling Unit Ventilation
Videos
How to Install Premium CHOICE Bathroom Fans
How to Wire Premium CHOICE Bathroom Fans
Premium CHOICE Plug-&-Play Options