STXD, STXDe, and STXDeRHUL
Upblast Direct Drive Centrifugal Roof/Sidewall Exhaust Fans
Spun Aluminum Centrifugal Fan Series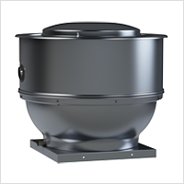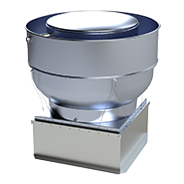 High Wind Tie-Down Kit Option Available
Model Features
Exhaust air up to 4,780 CFM in high static pressure applications up to 2-1/4" w.g.
Attractive spun aluminum exterior
Direct drive units have low sound levels and quiet operation
Curved non-overloading backward inclined wheel for efficiency at higher static pressures
Roof or sidewall mounting options
AMCA Air and Sound Licensed
cULus 705 or 762 Listed
Ecowatt® (STXDe and STXDeRHUL Models)
Miami-Dade NOA and Florida Product Approval Option Available
Listed with the Texas Department of Insurance under Product Evaluation RV-126 for wind load and windborne debris resistance per IRC/IBC 2018




Model Overview
Model STXD direct drive fans are designed to exhaust air up to 4,780 CFM in high static pressure applications to 2-1/4". The aluminum exterior provides an attractive appearance. The non-overloading backward inclined wheel with its higher static pressure capability makes this unit suitable for either ducted or nonducted applications. Its roof or wall mounting permits location near the area to be ventilated, allowing short duct runs and more efficient operation. Direct drive units use smaller diameter wheels with lower rpm's, resulting in low sound levels and quiet operation. They have no belts or fan bearings to maintain or adjust and consequently require very little maintenance.
Isolation of the motor from the air stream and the high velocity vertical (roof) or horizontal (wall) air discharge make the Model STXD ideally suited for the removal of dirty, contaminated and/or high temperature air from processes and buildings. Typical applications include restaurant hoods and similar kitchen exhaust ventilation, fume and smoke removal, laboratory fume hood exhaust and chemical process exhaust.
5-year fan housing warranty, 1-year motor warranty
STXD-RHUL units have 2-year fan housing warranty
Specifications
Size
Max HP
CFM Range
Max SP
Avg. Ship Weight (lbs)
6
1/10 HP
56 to 308
3/4"
89
7
1/10 HP
78 to 437
3/4"
89
8
1/4 HP
182 to 935
7/8"
98
10
1/3 HP
322 to 1,445
1"
101
12
1/2 HP
470 to 1,918
1-1/4"
111
14
1 HP
868 to 3,268
1-1/2"
118
15
1-1/2 HP
800 to 3,997
2"
140
16
1-1/2 HP
880 to 4,781
2-1/4"
141
18
1,098 to 4,272
1-1/4"
Product Kits
STXD, STXDe, STXDRHUL and STXDeRHUL Kits
Select S-Series (Centrifugal Roof Fans) models are now hurricane and high wind certified for wind-borne debris impact resistance and wind load design pressures up to ±150 PSF.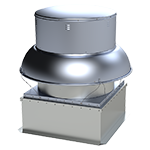 High Wind Tie-Down Kit
Non-flanged horizontal mount exhaust backdraft damper
Tie-downs
Fastened motor cover
Accessories
Note: Additional accessories are available for certain products. Contact your S&P Representative for more information about these accessories.
Standard Accessories
Aluminum Grease Trough
Automatic (Gravity) Damper
Backdraft Damper
Clip Lock Curb (Available for Non-Restaurant Models)
Submittal
Curb Cap Adaptor
Submittal
Curb Hinge Arrangement
Grease Grabber
Insect Screen
Motor Operated Damper
Roof Curb
Submittal
Self-Flashing Curb
Submittal
Solid State Speed Control
Ventilation Gas Detectors
Submittal
IOM
Wall Mounting Kit
Submittal
Wheel Cleaning Port
Ecowatt® Accessories
| | | |
| --- | --- | --- |
| Constant Pressure System | | |
| Potentiometer | Submittal | |
| EC Differential Pressure Control | | IOM |
| EC Motor Speed Control | | |
| ECM Multi-Speed Control | | IOM |
Applications
Restaurant Hoods / Kitchen Ventilation
Fume and Smoke Removal
Laboratory Fume Hoods
Chemical Process Exhaust