PV-POWERVENT
In-line Centrifugal Duct Fan
In-line Duct Fan Series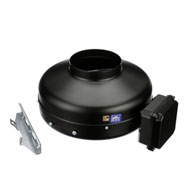 Model Features
Exhaust air up to 943 CFM with static pressure capabilities to 1-1/2" w.g.
Galvanized steel casing with black baked enamel coating
Pre-wired junction box
Ideal for applications where space is limited
Non-overloading backward inclined wheel for efficiency at higher static pressures
AMCA Seal for Air Performance
cULus Listed (Standards 507 and 705)


Model Overview
The PV-POWERVENT series of direct drive centrifugal in-line duct ventilation fans consists of twelve model sizes 4", 5", 6", 8", 10" and 12.4" respectively. All models are designed for direct connection in-line with standard diameter round ducting. Airflow performance values range from 153 CFM (PV-100X) up to 943 CFM (PV-315X).
All PV fan models incorporate a powerful external rotor motor that has been factory matched to a non-overloading backward curved centrifugal fan wheel.
This powerful combination enables the fan to deliver exceptional airflow performances against high static pressure typically found in ducted ventilation systems. All motors within PV fans are fully speed controllable using voltage or frequency control regulators.
The PV series of duct exhaust or supply fans have been specifically designed for simple installation and many years of maintenance free operation. These fans can be mounted at any angle and at any point along the duct. The totally enclosed motor design allows the PV fans to operate in high moisture, lint and dust laden air. All models are manufactured with high quality materials and workmanship that is supported by a comprehensive five (5) year warranty.
All PV Fans feature a corrosion resistant galvanized steel casing with black baked enamel coating and are supplied with a strong mounting bracket and prewired junction box.
The PV-100X fans feature Class F motor insulation.
5-year fan housing and motor warranty
Specifications
Part ID
Duct Dia.
Max. CFM
Nom. RPM
Voltage / Frequency
Max. Watts
Current
Max. SP
Max. Temp. of
Transported Air
PV-100X
4"
153
2880
115V / 60Hz
84W
0.8A
1.85"
158°F
PV-125X
5"
206
2745
115V / 60Hz
85W
0.8A
1.77"
158°F
PV-150X
6"
390
2750
115V / 60Hz
135W
1.0A
2.05"
158°F
PV-200X
8"
544
2930
115V / 60Hz
180W
1.76A
2.64"
158°F
PV-250X
10"
618
3045
115V / 60Hz
214W
1.5A
2.8"
158°F
PV-315
12.4"
669
2920
115V / 60Hz
200W
1.5A
2.21"
158°F
PV-315X
12.4"
943
2730
115V / 60Hz
365W
2.4A
3.9"
158°F
Product Kits
PV-POWERVENT Fan Kits
The PV-POWERVENT Series fans are also available as easy-to-install kits. This ultra-powerful bathroom fan offers a choice of single or dual vent exhaust. These kits are used for installations that require long or complicated duct runs.
Note: All PV kits have standard 5-year warranty.
PV Standard Exhaust Kits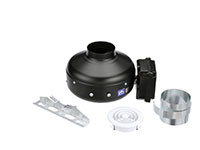 KIT-PV100X
1 PV100X exhaust fan
1 plastic round grille (PG-100)
Mounting bracket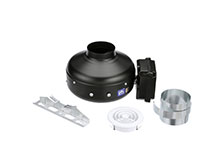 KIT-PV150X
1 PV150X exhaust fan
1 plastic round grille (PG-150)
Mounting Bracket
PV Deluxe Exhaust Kits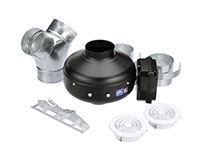 KIT-PV100X-DV
1 PV100X exhaust fan
2 plastic round grilles (PG-100)
1 Y-fitting (SY-4)
Mounting Bracket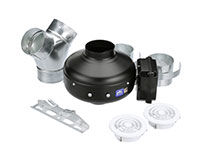 KIT-PV150X-DV
1 PV150 exhaust fan
2 plastic round grilles (PG-150)
1 Y-fitting (SY-6)
Mounting Bracket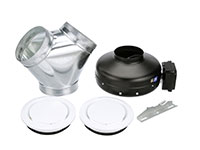 KIT-PV200X-DV
1 PV200X exhaust fan
2 plastic round grilles (BOR-200)
1 Y-fitting (SY-8)
Mounting Bracket
Accessories
Note: Additional accessories are available for certain products. Contact your S&P Representative for more information about these accessories.
Standard Accessories