SMXDK
Direct Drive Mixed Flow Fan
In-line Duct Fan Series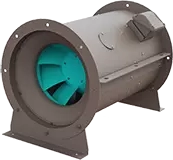 Model Features
Rated up to 24,500 CFM in static pressure applications up to 6-1/2" w.g.
10 sizes ranging from 9" to 30" effective diameter wheels
Continuously welded and epoxy coated steel housing
For indoor/outdoor use
AMCA Air and Sound Licensed
cULus 705 Listed


Model Overview
Model SMXDK mixed flow fans are inline ducted fans that can be used in exhaust, supply, or return air applications. Mixed flow fans act as a hybrid between axial and centrifugal fans. Meaning, they produce a lot of air such as axial fans, but they can handle higher pressures like centrifugal fans. When these technologies come together, the fan ends up being more efficient and quieter than similar tubular centrifugal fans.
S&P is taking efficiency a step further by focusing this design around efficient direct drive motors, which can be paired with AC drives or EC motors to adjust fan speed. The ability to control the speed allows the fan to hit multiple fan selection points similar to how a belt drive fan would be applied. Another couple of advantages with this is the lack of transmission losses associated with belts, and less maintenance that is associated with belt drive units.
Mixed flow fans work great in many applications where high efficiency and low sound are a priority. Some of those include: parking garages, commercial buildings, warehouses, food retail centers, and educational buildings.
2-year fan housing warranty, 1-year motor warranty
Specifications
Size
Max HP
CFM Range
Max SP
Avg. Ship Weight (lbs)
09
350 -1370
1"
10
525 - 2065
1-1/4"
12
600 - 2980
1-1/2"
15
1000 - 4185
1-3/4"
16
1500 - 5980
2-1/2"
18
1600 - 8390
3-1/4"
20
2200 - 12490
4-1/4"
22
2400 - 17100
5"
24
4500 - 24500
6-1/2"
30
5000 - 23480
3-1/2"
Accessories
Note: Additional accessories are available for certain products. Contact your S&P Representative for more information about these accessories.
| | | |
| --- | --- | --- |
| Companion Flanges | | |
| Disconnect Switch | | |
| Ecowatt® Drive | | |
| Hanging and Base Spring Isolators | | |
| Hanging and Base Rubber Isolators | | |
| Inlet and Outlet Guides | | |
Applications
Parking garages
Commercial buildings
Warehouses
Food retail
Educational buildings